HELP US MAKE A DIFFERENCE FOR JAKE
Jake came to us on July 3, 2019, from an overcrowded shelter Southeast of Columbus, Ohio. Not much is known about his time prior to coming to the shelter, only that he had been chained outside his whole life with a number of other dogs.
After arriving at the Rescue it was discovered that Jake was heartworm positive. He also developed a nasty case of pneumonia which required prompt medical attention and a rigorous and intensive treatment plan. Jake recovered quickly from pneumonia but now is facing a new challenge. It was discovered that Jake had a large mass on his left hind leg. A biopsy revealed the mass to be a low-grade mast cell tumor. At the recommendation of our veterinarian, we have reached out and scheduled a surgical consult for Jake next week with MedVet Toledo to have the tumor removed.
Jake is a special dog. He is quiet and loving and has the sort of gentle soul that touches the hearts of complete strangers. We are grateful for the opportunity to help Jake on his path towards recovery and towards finding a new family to love him as much as we know he will love them.

UPDATE 9-30-19
Jake has been doing very well since our last update! He is still his normal, cheerful, and sweet self who loves giving hugs and kisses to everyone he meets.
Earlier this month Jake was taken to visit with an oncologist at MedVet Columbus to discuss treatment options for the tumor in his thigh. After speaking with both the oncologist and a veterinary surgeon, it was decided that the best decision for Jake would be to perform surgery to remove his tumor. In efforts to save Jake's leg from having to be amputated, Jake will have a surgeon remove his tumor before undergoing oral chemotherapy treatment for a number of months afterward to ensure that the cancer is completely gone from his body. His surgery is scheduled to take place this Wednesday, October 2nd. Following his surgery, as he recovers, Jake will also continue to receive medication to treat his heartworm.
This will not be an easy journey for Jake or his caretakers, and it will be some time before he is ready to find his new home. But we believe Jake is up to the challenge! Everyone here at Toledo Animal Rescue knows that a dog like Jake, who has so much love to give and has received so little in return during his life, is truly deserving of the kind of second chance we hope this surgery will bring him.
We will continue to keep you posted.
UPDATE 10-4-19
As many of you know, Jake was scheduled for his cancer surgery to remove a mast cell tumor from his left hind leg this past Wednesday. We're happy to say that his surgery went well and he is now back at the Rescue receiving lots of care, attention, and peanut butter to help him recover! Jake will need daily bandage changes and will need to follow a very strict medication schedule in the following days as he takes the next steps in healing from his surgery.
In the meantime, Jake's tumor has been sent away to a lab for further testing. Once we know the results of the tests, we will be able to speak with Jake's oncologist about the next steps in his cancer treatment.
Jake has a long road ahead of him, but the entire Rescue team is ready to help him on his journey! 
Your generous support to the Helping Jake Fund will help Jake during his recovery and help cover his large medical bills. As you can imagine, the expense required to treat Jake's cancer puts a financial strain on a nonprofit as small as the Toledo Animal Rescue. We appreciate any donations that can help offset these costs.
Without you, caring for animals like Jake wouldn't be PAWsible.
UPDATE 4-20-20
After receiving the results from the cytology done on his tumor in November, his oncologist decided the best course of action would be to start Jake on 12 months of chemotherapy. It started out well, but in January we noted some severe, possibly life-threatening, complications revolving around his treatments. His quality of life was declining, and it had become obvious to the Rescue team that he was not happy. After consulting with his oncologist, and the Rescue's veterinarian, it was decided to end is chemotherapy. It was time to focus on giving him the best possible life with the time he has left.  
After being removed from the chemo, Jake started to perk up and was back to being his sweet, loving self. When he had fully recovered from the side effects of the chemo, he was placed in a foster home. He now has a family who is home with him 24/7, four brothers and sisters who he loves dearly, and a big yard to play in. He enjoys cuddling up with his siblings and barking at the mailman. Long naps in patches of sun, and taking up the entire king-sized mattress. He is enjoying life, and happy to be surrounded by love!
Jake does have one last hurdle to overcome. He is still receiving treatment for his heart-worm. His next test is in early May. With a negative Heart-worm test, he is expected to have about another 5 years of fun-filled life!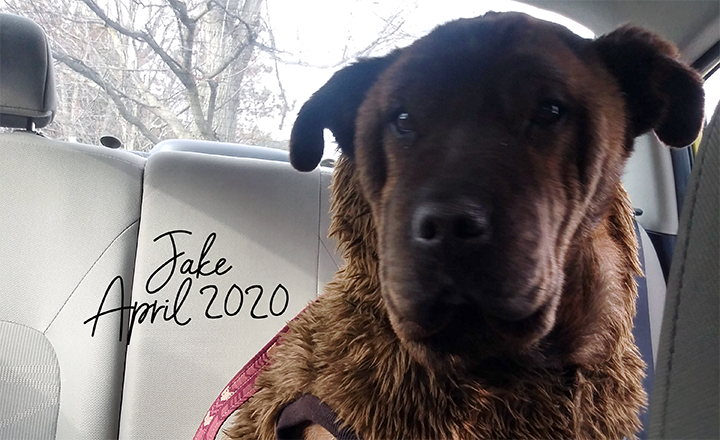 From left to right: Jake's wound post-surgery, Jake on his way home, Jake back at the Rescue in recovery.
---
We will post updates on Jake's journey on this webpage. Thank you for taking the time to learn about Jake. 
Any donation made on this page will go directly to Jake and his care. 
Donation to Help Jake