NEW DIRECTOR - Posted 4-20-20
Steve Kiessling has over 20 years of experience in the non-profit world, holding positions with duties ranging from program development, fundraising, project management, and executive leadership. Before accepting the Director position at Toledo Animal Rescue, Steve served as the Executive Director at Nature's Nursery for nearly 4 years. He has participated on several non-profit boards and committees with organizations that include the Down Syndrome Association of Greater Toledo and Northwest Ohio Community Shares. He holds a Masters in Education from the University of Toledo, and an undergraduate degree from the University of Virginia. Steve lives with his wife, Krista, and two teen daughters in Perrysburg, Ohio. In his spare time, he enjoys gardening, tending to his chickens and spending time with his cats and dog, all of whom were rescued or adopted from shelters.
We are excited to welcome Steve to the Rescue and grateful that our organization will get the opportunity to benefit from his vast experience.
---
SUBSCRIBE TO OUR NEWSLETTER
Always be the first to know about what's going on with our organization. You can sign up for our e-newsletter and/or mailed newsletter.
View our most recent e-newsletters below.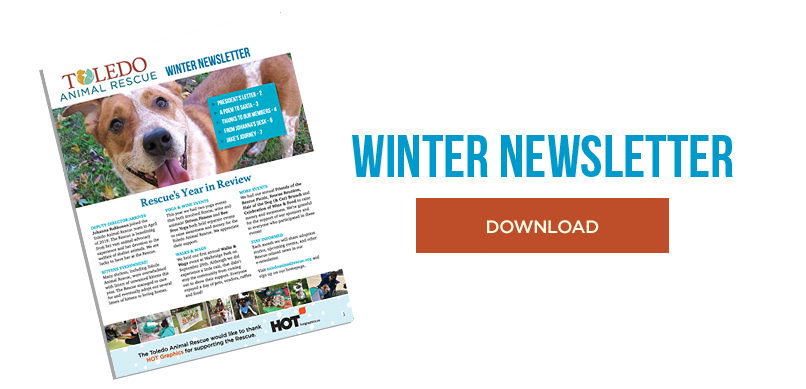 PAST PRINT ISSUES:
Special Edition Newsletter 2018
Please complete the form below to sign up for our newsletter.